ABOUT US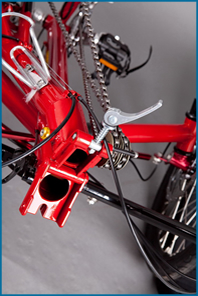 Trident Trikes is located in beautiful Lincolnton NC- about 45 miles NW of Charlotte. We are a small company, but we strive to be the best in design, innovation, and value in the Recumbent Trike industry, at the same time giving the best in personal customer service.
Trident Trikes are covered by our 5 Year Limited Warranty, and require much less customer assembly than other Trikes commonly available.
At Trident Trikes, we don't believe in charging extra for those parts that other manufacturers consider options. Trident Trikes Stowaway, Transport, Trekker & Chameleon Models come STANDARD with rear racks, a full set of 3 fenders, a safety flag, pedals, a rear light, and mirror. Others charge up to $400 for these options. We have 15 models, which are all available for purchase directly from us and select Dealers . The Chameleon Convertitrike Tandem/ Single in one package, the Stowaway I , Stowaway II, Transport 20 & Transport 26,  the entry level Spike 1,  the upgraded Spike 2, and Spike 380 Trikes,  the Trekker 20 and 26 Hidden Suspension Trikes . the Fat Trekker 20/26 Suspension Trike, and the Terrain 20 and 26 Fat Tire Models. We also have 5 Electric Assist Models- the E Spike , E Titan, E Terrain 20, E Terrain 26, and the E Fat Trekker.  And lastly our 2 wheel T.W.I.G model.
Shipping Policy:
Because we do a lot of preassembly, our trikes come in larger boxes than most other brands and have to be shipped via Truck Freight. We charge a flat $125 shipping charge to anywhere in the lower 48 states, which in most cases is below our cost. Please have some help getting your trike off the truck as the cost of a lift gate is not included. If you want lift gate service most freight companies can bill you for this.
Return Policy:
Trident Trikes offers a 30 Day Return Policy for all Trikes purchased directly from us. If within 30 days of receiving your new Trident Trike you are unsatisfied, you may return it to us in its original condition for a refund. The customer is responsible for shipping charges both ways as well as any damage caused by misuse, abuse and damage from return shipping. We understand that there will be normal signs of everyday use. This return policy only applies to Trikes purchased directly from us. We will only do this however ONCE per customer. Special Order Trikes are not covered by this policy. Trike purchased from authorized Trident Trike Dealers are subject to the return policy of that dealer. Separate parts purchases are not returnable/refundable.
Warranty:
5 Year Limited Warranty.Trident Trikes warranties that its Trike Frames are free of defects and workmanship for a period of 5 years from the date of purchase. It must be purchased either directly from us, or from an Authorized Trident Trikes Dealer. This warranty is limited to the original owner and is non transferrable. This warranty does not apply to the paint or finish, normal wear and tear, or any damage directly or indirectly resulting from customer abuse, neglect, abuse, improper assembly, alterations, collisions & accidents or misuse of the intended use of our Trikes. All other components on the Trikes come with a 1 year Warranty. We do not however warranty Tires, Tubes, Brake Pads, or Seat Covers. All Electric Parts on our E Assist Models also come with a 1 Year Warranty. Hard Shell seats have a 3 Year Prorated Warranty as follows: 1st Year – 100% Warranty, 2nd Year 50% Warranty, 3rd Year 25% Warrranty .
Parts and component  purchases without a Trike Purchase are subject to the Manufacturers  Warranty.  These items are not refundable, but we will repair or replace at our discretion.
Warranty claims must be made in writing or by calling us. Proof of purchase will be required. Trident Trikes reserves the right and has the sole discretion as to whether to repair or replace any part covered by this warranty. Replacement parts may be substituted depending on availability. The original owner is responsible for all labor, shipping and/or transportation costs related to the repair or replacement of warranty parts.
Liability:
Riding a Trike can be dangerous and result in serious injury or death. When you are riding a Trident Trike model you are expressly assuming all risks resulting from any injuries sustained while riding a Trident Trike including bodily injury, and property damage. The owner shall indemnify Trident Trikes for any damages- financial or otherwise incurred as a result of an injury, or any property damage caused by the owner, or somebody else riding the owners trike.