Spike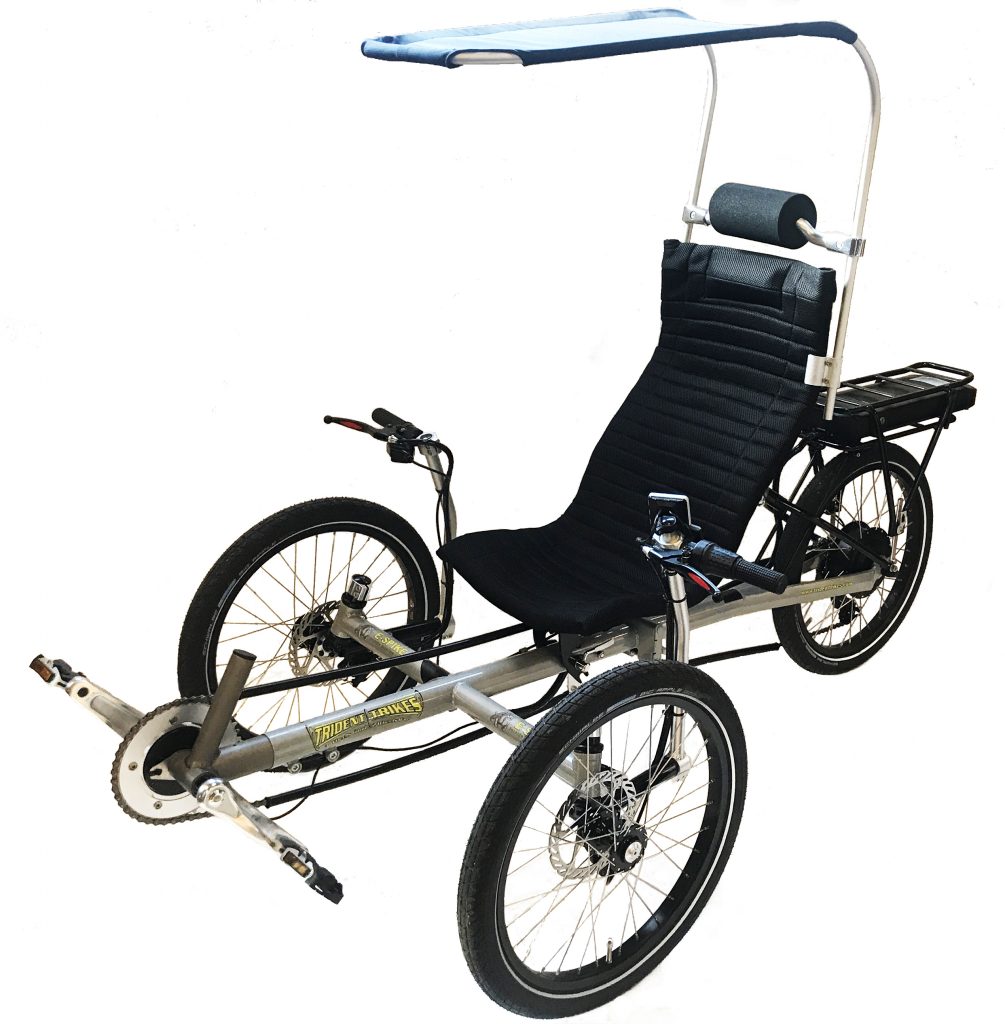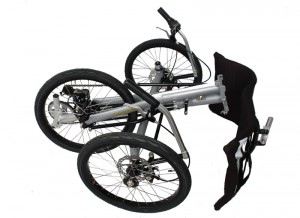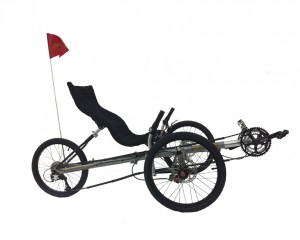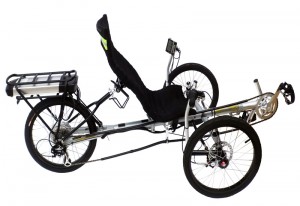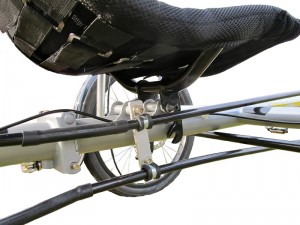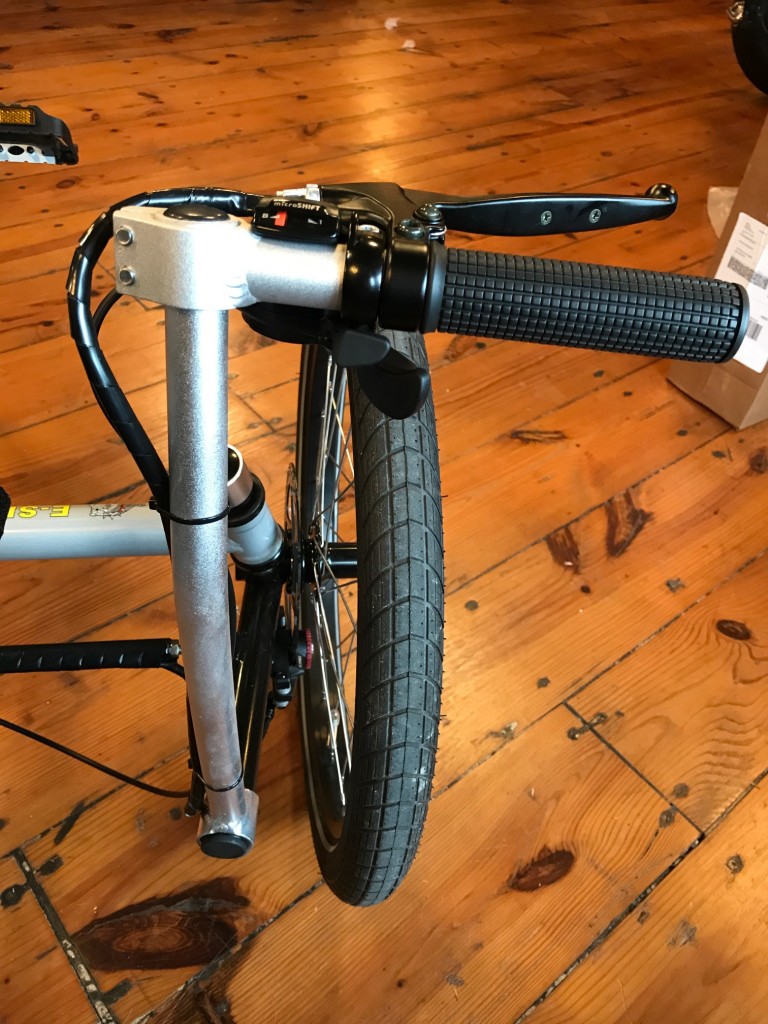 Meet Spike!
Spike is a no compromise Entry Level Folding Trike. Don't let the price fool you though- Spike is packed full of features that you won't see in other brands at twice the price. Our customers spoke and we listened. Not everyone is ready to commit $3,000 to their first Trike, but everyone wants something nice and easily upgradeable.
Some notable features of Spike include Trident's exclusive Aluminum Seat that adjusts for both height– 14 5/8 Inches (370mm) to 16 1/2 " (420 mm) and angle (42-52 degrees), a Folding Chro- Moly Powder Coated Frame, an Anodized Aluminum Boom, Aluminum Seat Frame with Water Bottle Cage attachment bracket, Shimano 7 Speed Deraileur/Shifter, Mechanical Disc Brakes, a Safety Flag and Alloy pedals- all STANDARD.
The Base Price of a Spike 1 is $1249.00!
For those who want a Spike with better performance and components, we also offer the upgraded 24 Speed Spike 2.
Spike 2 – 24 Speeds. Upgrades include a Samox Triple Crankset, Microshift Front Derailleur, Microshift Marvo LE Rear Derailleur, an 8 Speed 11-32 Cassette, and finally Avid BB5 Disc Brakes- all for the unbelievable price of $1449.00!!!
Spike  Enviolo/380 is our newest Spike model for those who would rather not have a derailleur system. It features the Nuvinci /Enviolo TR system . The TR System is far superior to the cheaper CT system -310% Gear Range  for the CT vs 380% for the TR. In addition the TR system can handle more torque which is important if you decide to install  a Mid Drive Motor in the future.  Schwalbe Big Apple Tires and Avid BB5 Brakes are standard . Spike 380 retails for $1769.00
E Spike is a modified 8 Speed Spike 1- It uses an integrated system by a Japanese company called Dapu. It ifeatures a 350W Geared Hub Motor, a special Cranket with sensors, a 36V 15 AH Rack Mounted Battery with built in light, and a Digital Display. With this system you can choose between throttle only or 6 different levels of pedal assist.The 36v 15AH battery is much larger than other manufacturers use and will give you a much longer range- about 25 miles electric only and up to 70 miles using pedal assist. This entire package only adds 18.5 Lbs to a Spike! Schwalbe Big Apple 20 x 2.0 Tires , Microshift Trigger Shifter, and Avid BB5 Brakes are standard equipment. E Spikes retail for $3099.00
BECAUSE OF THE MANY REQUESTS WE HAVE HAD.- SPIKE 1. SPIKE 2 AND SPIKE 380 ARE NOW AVAILABLE WITH FACTORY INSTALLED HORIZONTAL BARS FOR AN ADDITIONAL $30
An accessory kit with a full set of 3 fenders and a sturdy rear rack is available for $159.00 ($10 more for Big Apple Tire Version)
A Deluxe Accessory Kit which includes 3 Fenders , Rear Rack, Accessory Mount, Rear Light and Mirror is available for $189.00 ($10 more for Big Apple Tire Version)
A Spike 21 Speed Upgrade kit is also available which includes a Samox 52/42/30 Crankset with 165mm Crankarms including Bottom Bracket,  a 3 Speed Shimano Revoshifter, a Microshift Front Derailleur, Cable Housing, and a Cable Noodle to go through the boom , This kit sells for $209.00
A Spike Electric Upgrade kit is available to convert your Spike into an E Spike. It includes a Dapu 350W Hub Motor Wheel, A Battery Rack, a 36V 15AH Li-Ion Battery, and LCD Display, a Throttle, 2 Special E Spike Brake Levers, a Controller, a Special E Torque Sensing Crankset/Bottom Bracket and wrapping for the wires.  The kit sells for $1699.00
All Spikes have Direct Steering. It is only available in Silver. Spikes come 75% assembled and adjusted. They are not "kits" like many other brands of Trikes. All you have to do is put the seat on and adjust the boom length (and in some cases adjust the chain length).
Standard Boom length on all Spikes gives you an X- Seam range of 36 1/4" – 44"
Long Booms are available for $60 more which will give you an X Seam Range of 36 1/4 – 50 1/4 "
In addition your standard boom can be cut down to accommodate X Seams as low as 32 ½" with the use of 152mm Crankarms which we have available for Spike 1 . Please call or email if you need these.
For shipping quotes to AK, HI and outside the US, please email us
Read Review
Owner's Manual
E Spike Operation Manual
Dapu 600E Operating Overview for E Spike
NuVinci 380 Manual
Spike 21 Speed Upgrade Installation Instructions
Rear Rack Alternative Mounting Instructions
BEGINNING SEPTEMBER 2021- Due to the meteoric rise  in shipping costs,  all Spike Models (Except E Spike) will be shipped in a smaller box with front wheels off.  Here are the Spike Assembly Instructions. http://tridenttrikes.com/wp-content/uploads/2021/09/SPIKETITAN-Assembly-Manual.pdf
Pricing
Shipping Added to Total Price in Cart
Spike 1

$1249.00

+ $125 Shipping 
In Stock
Spike 1 with Horizontal Steering Bars

$1279.00

+ $125 Shipping 
In Stock
Spike 2

$1449.00

+ $125 Shipping 
In Stock
Spike 2 with Horizontal Bars

$1479.00

+ $125 Shipping 
In Stock
Spike Enviolo/380

$1769.00

+ $125 Shipping
In Stock
Spike Enviolo/380 with Horizontal Steering Bars

$1799.00

+ $125 Shipping 
Sold Out Until June 15
E Spike

$3099.00

+ $145 Shipping 
In Stock
Deluxe Seat Cover w/ Removable Side Pocket

$199.00

+ $14 Shipping
Standard Accessory Kit

$169.00

+ $16 Shipping
Deluxe Accessory Kit

$199.00

+ $16 Shipping
Standard Accessory Kit for Big Apple Tires

$169.00

+ $16 Shipping 
Spike Regular Fender Set F & R

$119.00

+ $15 Shipping 
Big Apple F&R Fenders

$129.00

+ $15 Shipping